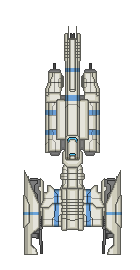 Name: Athens - Class
Type: Heavy Frigate
Length: about 260 meters
Width: about 125 meters
Armaments: Dual M22 Defender - EMRA, 1x M30 Dominator,
4x M12 Servant LMGs
Propulsion: G-6 Space Drive
Mass (theoretical): ~ 19 500 t
Mass (actual) : ~ 39 000 t
Powerplant : FU-6 Spark
Skeleton Crew : 280
Maxiumum Crew : 340
Shielding : 220° S9-FRS
Armor : E4 Titanium

Description:
Since the Alexandria-Class was more expensive and difficult to produce than High-Command anticipated, they requested a new ship to replace the Bremen-Class. Taking the things into account they had learned from the Alexandria-Class, the TNSCS began construction immediately.
They ditched the wings and reduced the silhouette, in order to make it harder for enemy ships to hit it.
Like the Alexandria-Class the Athens-Class utilizes E4 Titanium armor to increase its endurance in a fight. However it uses an S9-FRS instead of the S14-FRS to save costs.
It still utilizes the G-6 Space Drive, like the Alexandria-Class the Athens-Class is capable of autonomous FTL-travel.